An oximeter is an extremely handy device that measures the amount of Oxygen present in your blood. The right machines can even decipher the slightest changes in how the blood is carried from even the hearts to the legs. The devices are tiny and easy-to-use; they are clipped onto a finger and are commonly used in hospitals and clinics too. The monitoring of the oxygen levels can directly or indirectly co-relate to, asthma, anemia, lung cancer, heart defects and the COPD. Since a lot of them have flooded the market, let us have a look at the best ones you must buy if you are looking for one [1].
Recommended Posts
Top Infant Pulse Oximeters 2018: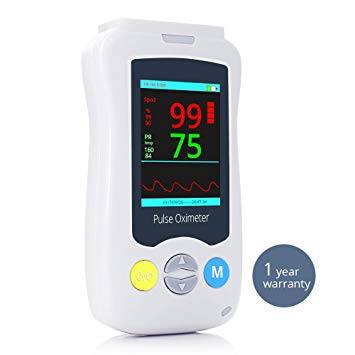 Pediatric Handheld Infant Fingertip Pulse Oximeter with Alarm Function:
This infant pulse oximeter sports a smart and friendly design which provides real-time display of pulse rate, SpO2 along with Plethysmography, battery display, time and alarm status display. Developed after years of hard work and research, it comes with an excellent memory storage function that is capable of storing the latest 500 sets of data. Other advanced features include the review function, trend function, and menu function settings.
With the review function, one can select changes in SpO2 and Pulse Rate, whereas the trend function shows the overall data changes in the pulse rate and SpO2. The menu function settings include alarm volume, SpO2 display color, time and upper and lower limit of SpO2 and PR.
It is capable of displaying data in different environments due to its adjustable brightness feature and has a 2.4-inch high-resolution LCD screen. It comes with one year warranty and should only be used for aviation and sports purpose. Further, the device has CE, TUV certificate, along with clinical tests and inspection.
Pros
Portable in design
High Accuracy
Variety of menu functions
Cons
Ineffective to use in times of Anaemia
Price on the higher side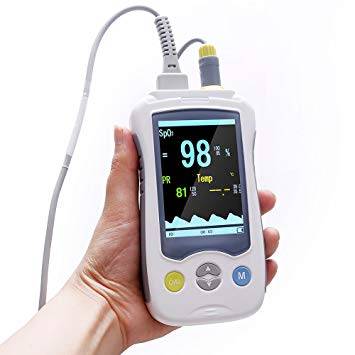 Children Pulse Oximeter with Body Temperature Function Yonker YK-820B By Handheld:
This product is a result of 12 years of relentless study, research and development work. It is used to measure the pulse rate and Hemoglobin Saturation through a finger. It has a bar display to indicate the pulse intensity. This product is approved by CE, TUV certificate, professional inspections and clinical tests. Besides it also comes with a one-year warranty.
It comes with an easy to read bright 3.5 inch LCD. Its small portable size makes it easy to carry. Further, it is also a smart device and is quite easy to use. Though the device is for sports and aviation use only, and not for the medical purpose, it's a good buy. It has an excellent feature of threefold alarms, i.e., words, audio and visual alarms. It supports English, Spanish and Turkish language.
Pros
Portable Design
Accurate readings with high precision
Comes with quality certification
Cons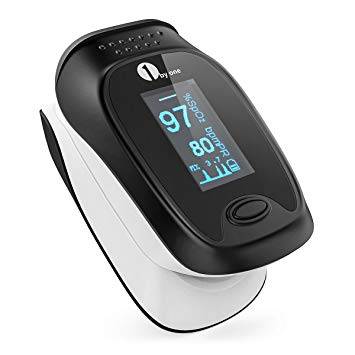 Portable digital fingertip pulse oximeter by 1byone:
It is an infant pulse oximeter for home use that uses advanced technology to ensure high accuracy of measuring. It comes with an ultra clear OLED display with 6 orientation options. One of the attractive features of this device is that the Pulse Oximeter powers off automatically after 10 seconds of inactivity to save battery.
Users can also choose between pulse rate, pulse wave, SpO2 level, bar graph and battery indicator displays. Apart from being CE and FDA approved, it is also clinically tested and gives a quick as well as accurate reading for pulse rate, SpO2, and perfusion index in 10 seconds or less. It includes a carrying case and lanyard, hence can be very conveniently carried while traveling too.
This infant pulse oximeter with alarm is not intended for medical use but can be used for sports and aviation purpose only. Lastly, it comes with a 90-day return and 12-month warranty with hassle-free customer service.
Pros
Fitted with an alarm system
Portable and Sleek Design
Cons
Build quality is not up to the mark
The instruction manual is not very detailed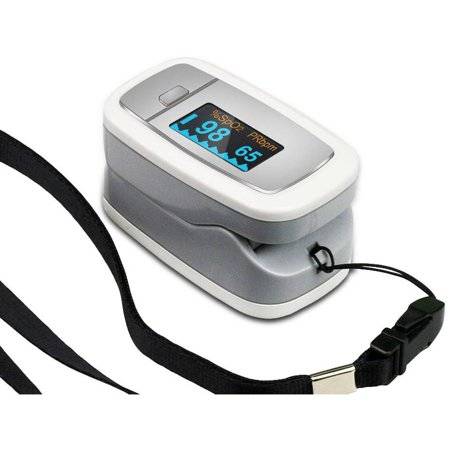 Fingertip pulse oximeter by Easy@home with OLED display:
Operating it is really easy, all you need to do is to push one button. It has a universal finger clip for all finger sizes. The results are displayed quickly in a matter of seconds. It can be used to measure pulse rate as well as blood oxygen level. Due to its OLED 4 direction display, you can see the result from any direction easily. The reading can be seen in numbers, bar graphs as well as waveforms (plethysmograph).
It comes with an elegant carrying case and neck/wrist cord along with a battery that lasts for thousands of readings. It auto power offs after 5 seconds of inactivity saving lot of power. Its adjustable brightness feature makes it perfect for both indoor and outdoor use.
One of the most attractive features is its One Button Operation that makes the device super easy to use and extremely convenient. Besides, it is a fantastic Lifetime hassle-free Product Replacement Guarantee. It is fit to be used by both adults and children, but should only be used for aviation and sports purpose and not for any medical purpose.
Pros
Compact for use while traveling
OLED Display for showing more clear data
Cons
Design not of the best quality
Can be broken if used roughly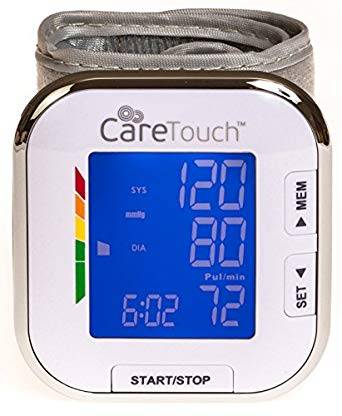 Fully automatic wrist blood pressure cuff monitor by Care touch:
With its large LCD and backlight feature, this device makes it easy to view the reading even in low light. The automatic power off functions saves the battery. This infant pulse oximeter with a sensor is super-fast as it shows the results within a minute, plus it also provides you with the feature of memory storage with date and time stamp. Thus, allowing the user to review the last 60 readings with a touch of a button.
It is FDA approved and is designed with your comfort and health in mind. Further, it comes with a one year guarantee from the date of purchase. It is very convenient and easy to use. The Care Touch Wrist Blood Pressure Monitor is capable of indicating irregular heart-beat. It shows an irregular heartbeat symbol in case it detects irregular heartbeat. This allows the users to take the necessary medical steps as soon as possible [2].
Pros
Operation is simple
Power off function is automatic
Cons
Not built with a tough structure
OLED display is absent
Verdict
So, these were the best infant pulse oximeters one can buy in 2018. They are great for usage at home and also while traveling. Before choosing a machine, check if it meets your purpose and consider the reviews from friends/relatives who are using it [3]